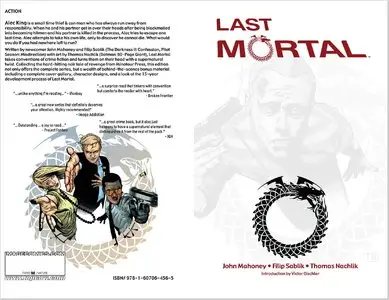 Last Mortal Vol. 1 HC (2012)
English | CBR | 172 pages | 53.84 MB
Collects LAST MORTAL #1-4 plus bonus materials! PILOT SEASON WINNER! Alec King is a born loser and a career failure. When he and his criminal partner get in over their heads with an attempted assassination of a mayoral candidate, Alec hits rock bottom and takes his own life. Only to discover he cannot die. Collecting the hard-hitting noir tale of revenge from Minotaur Press, this collection not only offers the complete series, but a wealth of behind-the-scenes bonus material including a complete cover gallery, character designs, and a look at the development of Last Mortal.