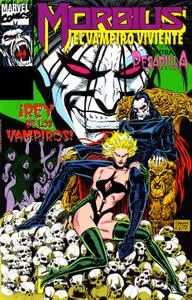 Morbius, el Vampiro Viviente 1993 (Completo)
Ed. Forum, 1993 | CBR | Spanish | 12 núm. (Completo) | 159 MB Totales
Autores: Mike Witherby, Ron Wagner, Len Kaminski
Después del papel protagónico de Morbius en Adventure into Fear, esta fue la primera serie en solitario de Morbius. A partir de los eventos de "Rise of the Midnight Sons", Morbius lucha contra los hilos ocultos, pero también contra sí mismo, mientras trata de mantener su sed de sangre bajo control.