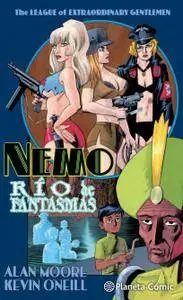 The League of Extraordinary Gentlemen - Nemo: río de fantasmas
Planeta Cómics, 2015 | Spanish | CBR | 53 páginas | 44 MB
Autores: Alan Moore y Kevin O'Neill
Sinopsis de la editorial: Río de fantasmas: 1975. En un mundo donde todas las ficciones escritas se unen en un rico mosaico. la reina pirata, la ya octogenaria Janni Dakkar, comienza a divagar ligeramente. Así, su vida se centra en perseguir fantasmas de su pasado (o de su imaginación), embarcándose en un viaje hacia la inmensidad del Amazonas, tal vez su aventura final. Un último intento de redimir antiguos espectros. Con nuevos y históricos aliados, acompañaremos a la corsaria en su obsesivo camino hacia el exótico paisaje de un extraño continente, desde las ruinas de la ciudad de Yu-Atlanchi hasta la meseta de Maple White Land. A medida que las amenazas se ciernen sobre ella, Nemo lidera a la tripulación del Nautilus en una desesperada incusión al infierno, en un río de fantasmas que parecían muertos. La trilogía de Nemo (Corazón de Hielo, Rosas of Berlín, Río de fantasmas) llega a su impresionante final. A través de una exótica visión de una América del Sur imaginaria Alan Moore and Kevin O'Neill llevan a su trilogía hace una conclusión brillante.