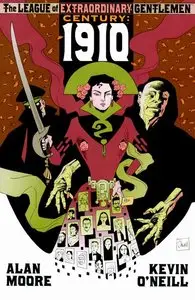 The League of Extraordinary Gentlemen Volume III - Century: 1910 #1
Eng | RS & MU | CBR | Top Shelf Productions | 84 Pages | 48.4 MB
and Kevin O'Neill's Victorian superheroes (who are also Victorian literary characters), , return for a new adventure with a new publisher, Top Shelf Productions. Issue #1 is the first chapter of Volume III, a 216-page epic spanning almost a hundred years entitled , and divided into three 72-page chapters, each a self-contained narrative. The previous two volumes, published by the America's Best Comics imprint of DC Comics, were critically acclaimed and won several awards.
Chapter one entitled "1910" is set against a backdrop of London, 1910. With Halley's Comet passing overhead, the nation prepares for the coronation of King George V, and far away on his South Atlantic island, the science-pirate Captain Nemo is dying. In the bowels of the British Museum, Carnacki the ghost-finder is plagued by visions of a shadowy occult order who are attempting to create something called a Moonchild, while on London's dockside the most notorious serial murderer of the previous century has returned to carry on his grisly trade. --
Visit my
blog
often for updates to, and more spin-offs and special issues in: the Complete Amazing Spider-Man (Issues 1-593 and counting) and other complete Spider-Man series; Grimm Fairy Tales (Issues 1-37 and counting); the complete Wolverine Origins (Issues 1-34 and counting); the complete Transformers official movies comics series; for the complete classic EC Comics series; and for other complete comics collector's series.