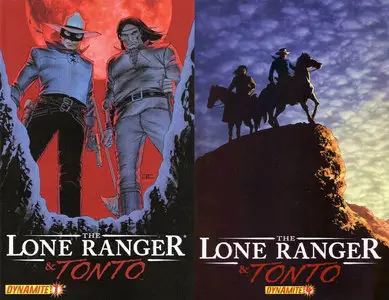 The Lone Ranger and Tonto #1-4 (Series of One-Shots) Update
4 CBR's | Dynamite | Release Dates Mar 12 2008 - Dec 29 2010 | 95.83 MB Total
"The Lone Ranger and Tonto" is described by its writer Brett Matthews as a series of one-shot specials that serve as companion piece to Dynamite Entertainment's Eisner-nominated main series, . In these one-shot specials the Lone Ranger share equal billing with his faithful companion, Tonto. And where the main monthly series is character-heavy, these one-shot specials are more plot-centric, focusing on the adventures of the two protagonists while out on the range, with each issue a complete feature story that anyone can enjoy without any concern for story evolution or continuity. The kind I actually like.
Who was that Masked Man? A bandit? A hero? A daring and resourceful rider of the plains? As the reporter who sets out to uncover the truth behind the growing 'rural legend' of The Lone Ranger discovers, it all depends on who you ask. --
Visit my
blog
often for regular and complete comic book series updates.