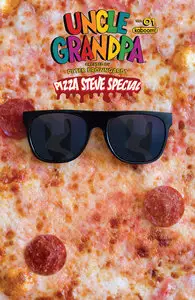 Uncle Grandpa - Pizza Steve Special 001 (2015)
English | CBR | 40 pages | 73.63 MB
What's to Love: Based on the hit Cartoon Network animated series created by Peter Browngardt, Uncle Grandpa is the magical uncle and grandpa of every kid in the world. That's awesome, but he hangs out with some pretty cool friends, too! We wanted to hang out with the coolest slice of pizza to ever don sunglasses: Pizza Steve! What It Is: It's time for Pizza Steve's Slice of life. Take each piece out of the pie in this jam-packed anthology with a little taste of all the condiments and a big side order of extra cool! Featuring a motorcycle gang of sea monkeys, Pizza Crust Punks, the Rat Banditos, and so much more off-the-menu adventures!