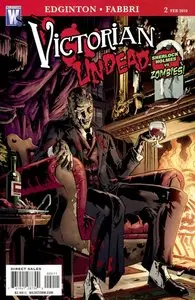 Victorian Undead #2 (Of 6)
Eng | RS & Hotfile | CBR | Wildstorm (DC) | Dec 23 2009 | 24 Pages | 11.7 MB
+ Victorian Undead Issue #1
There has been a recent fan upsurge among new generations and an interest revival among senior ones in the world's most famous and best-loved fictional detective, Sir Arthur Conan Doyle's immortal Sherlock Holmes, fueled no doubt by countless comic books retelling his exploits or featuring new ones. Now, DC Comics through its Wildstorm imprint has come up with a six-issue limited series pitting Sherlock Holmes against--what deviltry is this?--zombies! In Victorian London!
The undead are returning to life, hungry for flesh and threatening all of Victorian London. Who or what is behind this horrifying plague, and can world-renowned sleuth Sherlock Holmes and his erstwhile companion Dr. Watson solve the riddle before it's too late? Could the long-deceased Professor Moriarty hold the key to salvation? The horror noir continues! By: Ian Edginton, Davide Fabbri, Simon Coleby --
Visit my
blog
often for regular and complete comic book series updates.