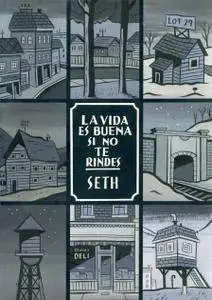 La vida es buena si no te rindes, de Seth
Ed. Sinsentido, 2003 | Spanish | CBR | 197 págs. | 75.9 MB
Elegido uno de los "cien mejores cómics del siglo XX" por los editores de The Comics Journal.
Seth emprende aquí un viaje en busca de sí mismo y del sentido de la vida a través de la obra de Kalo, un historietista olvidado de los años cuarenta y cincuenta a quien descubrió por casualidad en un número antiguo de The New Yorker y cuyo trabajo lo obsesiona y le fascina. Una tarea compulsiva que lo lleva a sumergirse en horas de lectura e investigación, y a repasar pilas de libros y revistas viejos con la esperanza de encontrar algún fragmento del pasado al que poder aferrarse en última instancia. Una aventura, en definitiva, que nos transporta con fuerza y pasión en la distancia y en el tiempo.
La vida es buena si no te rindes, es la primera novela gráfica de Seth. El libro apareció por primera vez, de modo serializado, entre 1993 y 1996 en la saga autobiográfica Palookaville. La versión definitiva, en un solo volumen, situó a Seth en el panorama del cómic mundial.