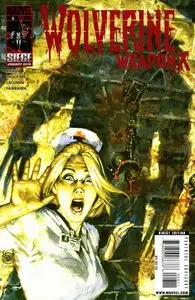 Wolverine: Weapon X #8 (Ongoing)
Eng Rs & Hotfile | CBR | Marvel Comics | Dec 23 2009 | 27 Pages | 11.4 MB
+ Wolverine: Weapon X Issues #1-7 Complete
Since the popular first appearance of Wolverine in 1974, it had been implied that he was connected to a shady and malevolent government program. In the 1991 limited series , the project was named Experiment X and it was revealed that it was responsible for bonding the adamantium to Wolverine's skeleton, making him indestructible, it also subjected him to brainwashing to bring out his most basic murderous instincts in order to transform him into the perfect assassin. The scientists christened their new killing machine "Weapon X." The storyline evolved into , the new ongoing series of Marvel Comics starring everyone's favorite mutant anti-hero. Issue #8 is part 3 of the new four-part story arc, "Insane in the Brain."
In the deepest darkest dungeons of the Dunwich Sanatorium, the true nature of this maddest of all madhouses is finally revealed, but will the answer come too late for Wolverine to salvage what's left of his sanity? And just what is Dr. Rot building with all of those brains? By: Jason Aaron, Yanick Paquette, Adam Kubert --
Visit my
blog
often for regular and complete comic book series updates.