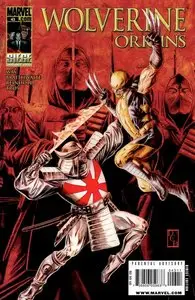 Wolverine Origins #43 (Ongoing)
ng | RS & Hotfile | CBZ | Marvel Comics | Dec 232 2009 | 25 Pages | 20.1 MB
+ Wolverine Origins Issues #1-42 and Annual Complete
Logan. James Howlett. Weapon X. Wolverine. A Mutant whose gift is the Hunt—aided by an unusual skeleton that grants him savage claws, heightened senses, and a healing ability capable of miracles. Brainwashed, tortured, and injured beyond any normal man's ability to survive, Wolverine has not just endured for over a hundred years, he has grown stronger. Wolverine Origins is the title character's second solo ongoing comics series published of course by Marvel Comics, beginning in the summer of 2006. It essentially revisits how Wolverine came to be and how he discovers that he has a son named Daken who has been brainwashed and made a living weapon by the villain Romulus, the man behind Wolverine's own brainwashing. Wolverine makes it his mission to rescue Daken and stop Romulus from manipulating or harming anyone again. Issue #43 is the third of the five-part story arc, "Seven The Hard Way."
With Bruce Banner and his fearsome son Skaar onboard, and with the enigmatic X-Man Cloak apparently on his side, Wolverine's mysterious plan to finally defeat Romulus seems to be going well...but that was before coming face to face-and blade to blade-with Kenuichio Harada, the Silver Samurai! Is he part of the plan, or the one who will completely derail it? --
Visit my
blog
often for regular and complete comic book series updates.