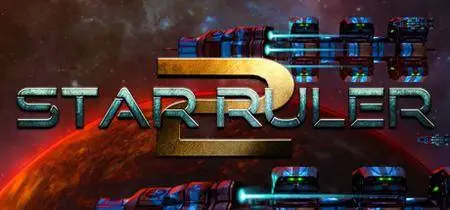 Star Ruler 2 (2015)
PC Game/Linux | Developer: Blind Mind Studios & Glacicle / Blind Mind Studios | 1 GB
Languages: English
Version GOG: 2.4.0.5/2.2.0.3/2.4.0.6/2.1.0.2
Genre: Strategy - Real-time - Sci-fi
Star Ruler 2 is a massive scale 4X/RTS set in space. Select from one of seven races – or craft your own – to explore dozens, hundreds, or even thousands of systems in a galaxy of your choosing. Expand across unique and varied planets and ultimately exterminate – or subjugate - any who stand in your way either in offline singleplayer or up to 28 player multiplayer. Build vast armies; construct Ringworlds and Stellar Forges; conduct war by other means through diplomacy; design and test new ships, new tactics, and new strategies before a real shot is ever fired. A galaxy of possibilities and danger awaits you - do you have the bearing to confront it?
The scope of the game is epic: Ringworlds and Stellar Forges; battles which rival movies in their spectacle.
A unique diplomacy system with teeth which brings diplomacy out of the shadows and on to center stage for all the empires to vote on and judge – and which makes surrender an actual option.
Completely configurable ships; completely modifiable game. Star Ruler 2 even includes a Mod Editor to help players get what they want out of the game.
MINIMUM System Requirements
Windows: Windows Vista / 7 / 8 / 10 64-bit
Processor: SSE2 Capable processor
Memory: 1 GB RAM
Graphics: AMD or Nvidia Graphics card w/ 512MB RAM, OpenGL 2.1 Support
Hard Drive: 600 MB available space

Linux: Ubuntu 14.04, Mint 17
Processor: SSE2 Capable processor
Memory: 1 GB RAM
Graphics: AMD or Nvidia Graphics card w/ 512MB RAM, OpenGL 2.1 Support
Hard Drive: 600 MB available space

Recommended system requirements
Windows: Windows Vista / 7 / 8 / 10 64-bit
Processor: Intel Core i7 or AMD Phenom II
Memory: 2 GB RAM
Graphics: NVIDIA GTX 460 w/ 1GB RAM
Hard Drive: 600 MB available space

Linux: Ubuntu 14.04, Mint 17
Processor: Intel Core i7 or AMD Phenom II
Memory: 2 GB RAM
Graphics: NVIDIA GTX 460 w/ 1GB RAM
Hard Drive: 600 MB available space