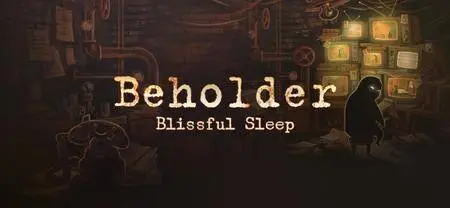 Beholder + Blissful Sleep DLC (2017)
Linux/Mac | Developer: Warm Lamp Games / Alawar Premium | 1.5 GB
Languages: Audio and text: Português do Brasil, Deutsch, English, español, français, italiano, japanese, nederlands, polski, Russian
Version GOG: 1.5.0.10020 (13355)/2 0 0 1
Genre: Strategy - Adventure - Managerial
The Ministry of Introductions is honored to introduce Hector, the ex-landlord succeeded by Carl Shteyn. You may remember him being beaten and then dragged away, but things aren't always what they seem to be... Welcome back to the grim dystopian future of Beholder where ordinary people struggle to survive while subjected to the directives of an iron-fisted Government! The time has come to tell the stories of:
the one who has fallen a victim to a horrifying mistake, and is now desperately seeking for salvation;
the ones who broke the law to find happiness and are now facing the consequences;
the one who risked his life for the State but has been left behind;
the one who had everything but lost it all; and
the one who mews!
You'll meet many others, all of whom are living under the same roof – and under the thumb of a government that has absolute control over its citizens and never turns its peering eye away! Return to Krushvice 6 and serve the State and Wise Leader well! USER REVIEWS
MINIMUM System Requirements
System: 10.10+
Processor: Intel Core i5 – 2.4 GHz
Memory: 2 GB RAM
Graphics: AMD Radeon HD 6490M 256 МБ
Storage: 1600 MB available space

System: Ubuntu 14.04, 16.04
Processor: 1.7 GHz Dual Core
Memory: 2 GB RAM
Graphics: 1 Gb
Storage: 1600 MB available space

Recommended system requirements
System: 10.10+
Processor: Intel Core i5-2400S, 2.6 GHz
Memory: 3 GB RAM
Graphics: AMD Radeon HD 6750M (512 Мб)
Storage: 1600 MB available space

System: Ubuntu 14.04, 16.04
Processor: Core i5 – 2.5 GHz
Memory: 3 GB RAM
Graphics: 1 Gb
Storage: 1600 MB available space