Arabesque puzzle is a Puzzle Game in best traditions of match three games. The main idea is similar to classic puzzle game - lines- where your objective is to line up 5 balls of the same colour. However we've made a lot of interesting changes in the gameplay to make this puzzle less boring.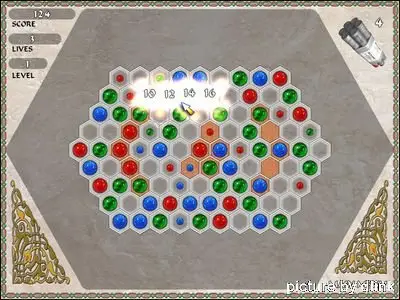 The puzzle has been created for the whole family, for adults it's supposed to be effective relaxation remedy and a way to escape from the depressing reality, meanwhile children will have fun playing fascinating and development game.
The rules are extremely simple, but still it does not make the puzzle less interesting. To complete a level your objective is to break down all the wooden boxes using the balls. To crash the boxes you should line up three or more balls covering them. Some of the boxes can be broken from the first, some of them from the second, while others even block up the ball in the cell.
To diversify the gameplay of the puzzle we have added following bonuses:
* The ball, replacing any colour you need
* The bomb, blowing up all the balls of chosen colour
* Simple but powerful bomb (breaking the wooden boxes)
* Smaller bomb - extra bonus you are given every 5 successful moves
* And, finally, mean dragonfly, prying into your affairs and bothering you.
* 100 levels of great puzzle game
System requirements
* Pentium II 400 MHz
* 64 Mb RAM
* OS Windows 9x/200x/XP