Meet the beautiful Betty. She works in an awful bar, far away from any major city, where the most wacky and fun characters go for some beers. But her dream is to own a bar in a tropical beach. Help her raise the needed money working in several different bars so she can fulfill her dreams!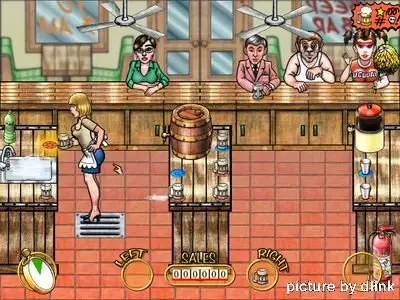 Betty's Beer Bar is a fast paced and addictive arcade game. Your task is to serve the customers as quickly as possible - keep them happy and they will give you huge tips. Serve them coffee when they're about to get drunk, to keep them awake - drunk customers rarely pay!
Betty's Beer Bar features four unique scenarios and over fifty original and fun animated characters in a beautiful hand-drawn, cartoonish style. It also includes different soundtracks to keep you fully immersed in its world.
* Complete tutorial - become an expert in no time!
* Adjust the game difficulty at will (easy, medium or hard)
* Over 50 fun characters
* Four beautiful scenarios
* Three different play modes (Story Mode, Time Challenge, and Free Play)