Title Bout Championship
2003 by OOTP Developments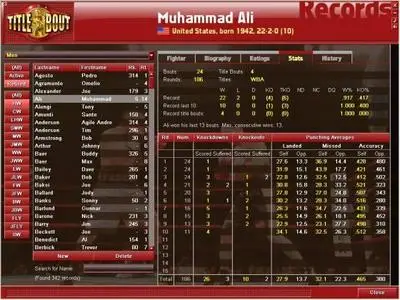 The classic boxing simulation Title Bout came to the computer in the way it has always been intended. OOTP Developments, in conjunction with Comp-U-Sports, released not just one computer boxing product but two exciting, accurate and even educational products.
Title Bout Championship Boxing is the ultimate in computer boxing games simulations. Title Bout Championship Boxing far surpasses all previous versions by introducing dozens of new features like Top Ten Lists, ability to work a fighter's corner, a new and more intuitive interface, graphics, sound effects… everything you need to make you feel like you're ringside for a bout between two of the over 3600 fighters!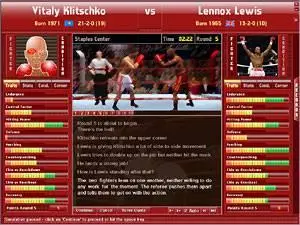 Want to restage a classic bout, like Jack Dempsey vs. Gene Tunney? Or perhaps do a "what if" matching Sugar Ray Robinson against Marvin Hagler? Or maybe even predict the future by fighting Wladimir Klitschko against Lennox Lewis? All of these are possible with Title Bout. And you can fight each fight one time or one thousand times!
Complete statistics (more than ever before), revised and multiple ranking systems, full editing capabilities, and re-rated fighters, trainers, corner men, and referees are all part of the simulation.
A new, more graphical, more intuitive interface makes all aspects of Title Bout Championship Boxing the simulation that fans have dreamed about, thanks to OOTP Developments and Comp-U-Sports.
24,7 MB
Download:
http://rapidshare.com/files/1618437/Bieffe_TBC77484383.rar
Password: ratataplan