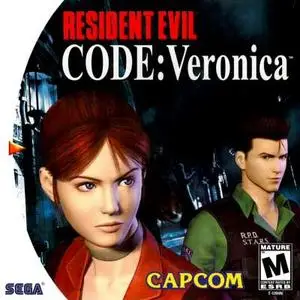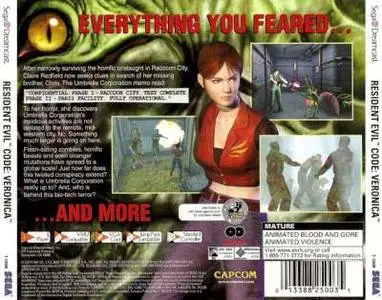 Resident Evil - Code Veronica | Dreamcast | 2 CDs | 1.19 GB
Game Info:
~~~~~~~~~~
IT'S EVERYTHING YOU FEARED AND MORE.
After narrowly surviving the horrific onslaught in Raccoon city,
Claire Redfield now seeks clues in search of her missing brother,
Chris. The Umbrella Corporation memo read:
"CONFIDENTIAL:
Phase I – Raccoon City. Test complete.
Phase II – Paris Facility. Fully operational."
To her horror, she discovers Umbrella Corporation's insidious activities are not isolated to the remote, mid-western city. No. Something much larger is going on here. Flesh-eating Zombies,
horrific beasts and even stranger mutations of science have spread to a global scale! Just how far does this twisted conspiracy extend? What is Umbrella Corporation really up to? And, who is behind this bio-tech terror? Alone and terrified, Claire now discovers her terrifying ordeal is far from over. The nightmare is just beginning.
- 1 person action/adventure.
- Drop-dead gorgeous graphics brought to you by Sega Dreamcast.
- Duel gun system that allows you to mow down mobs of zombies.
- 180 degree turn found in RE3 and Dino Crisis is included in this
adventure, giving player more control when confronted by beasts.
- Engrossing storyline reveals more about the "Umbrella" and the
Zombies.
- Spans 2 completely different locations.
- New enemies to conquer.
If You Have Dreamcast Console:
Burn Images into Balnk CD-R and Load Game With Boot Disk 1.2.
OR
Use Chankast (Dreamcast Emulator) To Play This Game On PC. :)
1-Mount Boot Disk 1.2 Image With Daemon Tools 4.
2-Run Chankst and Configure Your Daemon Tools Virtual Drive Letter.
3-Click Start in Chankast Main Window.
4-After Boot Disk Loaded, UnMount Image and Mount Resident Evil Image.
Download