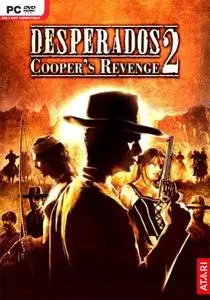 Published by: Atari
Developed by: Spellbound
Genre: Strategy
Release Date:
US: May 9, 2006
ESRB Content Descriptors: Language, Suggestive Themes, Use of Alcohol, Violence
Desperados 2 is the sequel of the successful wild west title "Desperados – Wanted Dead or Alive". The gameplay is based on its predecessor but with brand new tactical possibilities in a fully 3D environments. The player is able to switch from an isometric view to a third person view whenever he wants, for example for duels, brawls and shoot-outs. There will be a great variety of setting for example dusty canyons, ghost towns, Indian villages and forts creating a breathtaking atmosphere.
Take on the role of up to 6 heroes including the famous bounty hunter John Cooper and experience in a thrilling story with surprising turns.
Game homepage
http://www.desperados2.com/
Screenshots
http://media.pc.ign.com/media/689/689726/imgs_1.html
Download
http://www.rapidsharing.net/index.php?t=item&id=724