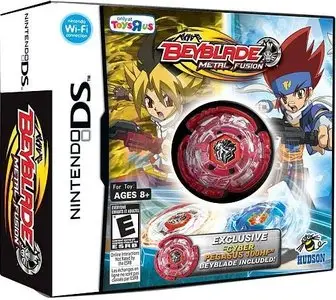 Beyblade Metal Fusion - Cyber Pegasus (2010)
NDS Game | Action, Languages: Ita, Ger, Spa, Fre, Eng, Rus | 130 Mb
The Bladers have returned for a shot at the World Beyblading Championships. The action is hotter than ever with each team bringing their enhanced spinning Beyblades to battle. Beybladers customize their Beyblades with different parts for winning strategies with offense and defensive abilities. In addition, each Beyblade is equipped with special attacks to fight with making no battle the same! Execute the Special Attack to inflict enormous damage to your opponent! Become the No.1 Beyblader by utilizing customization and special attacks!
Game Facts!
• Features actual characters from the BEYBLADE: Metal Fusion Animated Television Series
• Battle modes and customizable settings make each competition unique
• Designed for Point and Click Controls that are perfect for the Wii Remote and the Nintendo DS Stylus
• Link up with the DS and Wii versions to acquire rare blades!
Platform Specific Features:
o Voice commands using the DS microphone
o 2 player Battle Mode competition via the Nintendo® Wi-Fi Connection or wirelessly using one Game Card!
o Supported with Beyblade enhancement function based on experience
o Wi-Fi competition/ranking supported
• Wii: BEYBLADE: Metal Fusion – Battle Fortress
o Complete game-specific story with the original characters from the animation
o 4 player Battle Mode competition against 3 other human or AI controlled enemies. Co-Op with allies or rally against one opponent.
o Customize stadiums: Choose from various terrains and shapes to battle in
o Save and carry the blades you create to your friends' houses using your Wii Remote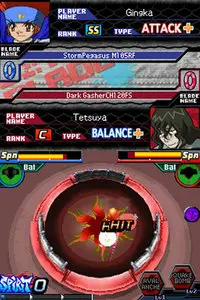 Italian
La serie Beyblade Metal Fusion presenta un nuovo cast di personaggi ingaggiati nella battaglia continua tra bene e male.
Gingka, l'eroe, e il suo gruppo di fedeli amici si radunano per fronteggiare un pericoloso gruppo chiamato Dark Nebula.
La serie si incentra su un gruppo di concorrenti che gareggiano per essere i migliori nel Beyblading.
Ogni blader modifica i propri Beyblades per competere ed essere il numero 1 al mondo.
Languages
: ITA, GER, ESP, USA, ENG, FRA, RUS

Filesonic.com

|

Wupload.com



Clicca QUI per gli altri giochi Nintendo DS postati su AvaxHome
Please DO NOT MIRROR
If you'll find that my links are dead please let me know through the Private Messages.
>>> Visit edi1967 Blog Here <<<