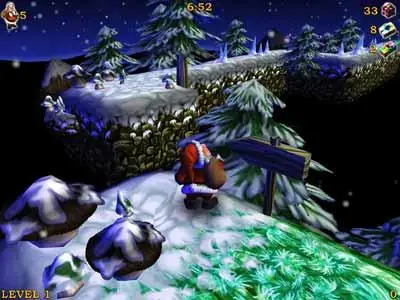 Santa Claus In Trouble Again (bin and cue) | 93mb
Santa Claus desperately needs more trouble! Santa Claus (2) in Trouble… Again! is a "platform" game featuring full 3D action and countless new levels, traps, opponents and surprises in three episodes, in which you have to help Santa collect his presents.
Christmas is just round the corner with its usual load of shopping anxiety, family dinners and lots of work for poor old Santa. Dressed in traditional red, the nice, bearded old man must collect all the Christmas gifts he finds on his way.
However, it will not be that easy. You have to avoid evil penguins and dangerous fireplaces that stay on your way and, of course, try not to slip and fall into the void.
This game features nice 3D graphics, perfect gameplay and complete Christmas environment with decoration and traditional carols.
http://rapidshare.com/files/65129922/2222_Santa_.rar