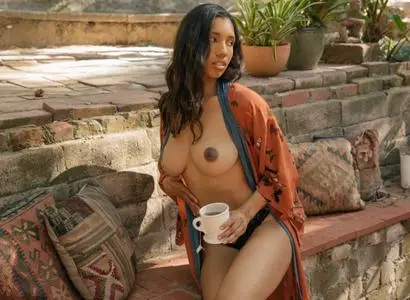 Brookliyn - Sophia Sinclair Photoshoot 2021
29 jpg | 1826*2739 | 34.94 MB
"I've tried more to embrace living in the moment,"
says Brookliyn when asked of some words she lives by. Fully living in this particular moment, Brookliyn makes her second pictorial for Playboy. On location in Los Angeles, California, we get to know Brookliyn better as she floats about the outdoor space, captured by the photographer,
Sophia Sinclair
.
"My personality is very laid back,"
she tells us.
"I prefer to do chill things or take trips rather than go out. I'm a major homebody."
A professional model since she was a teen, Brookliyn is very comfortable on set.
"I've really grown to love my entire body as I've gotten older. I'm actually really comfortable nude,"
she says.
"I've been modeling for so long; I'm pretty much naked all the time."
When it comes to dating, Brookliyn loves a thoughtful first date.
"Anything out of the ordinary. If someone ever offered to take me to a book store on a first date, I'd probably marry him,"
she laughs.
"What do I look for? Consistency, loyalty, honesty, and respect."