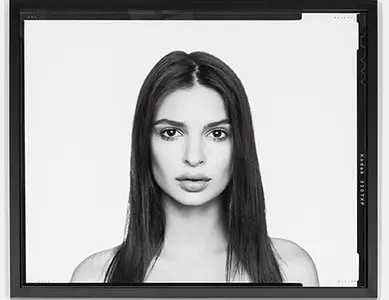 Samuel Bayer Nude Exhibition 2013
19 jpg | up to 1024*1536 | 3.17 Mb
Depicting the human body has been among the primary preoccupations and achievements of artists for millennia. Drawing inspiration from historic precedents in painting, sculpture, photography and film history, for the past twenty years Samuel Bayer has produced still photographs alongside his innumerable award-winning music videos, film and commercials. Bayer has evolved an aesthetic of gritty rawness, a now emblematic style that has typified his music videos since his groundbreaking first with
Nirvana
in 1991. The culmination of his recent photography is a large-scale series of black and white photographic nude portraits, being exhibited for the first time at Ace Gallery Beverly Hills.
A series of sixteen nudes, shot in three sections with a large-format 4" x 5" camera in the studio against a simple white backdrop, envision larger-than-life contemporary studies of young women, tackling the time-immemorial subject of the nude. They are accompanied by two diptychs of faces in extreme close-up, eyes open, eyes closed; the features and cool gaze of his subjects reveal every freckle, line and follicle. Face; eyes, hair – features become a landscape to traverse as our eye wanders human terrain.
These are models and individuals Bayer has worked with and known over the past decade, becoming living archetypes in the colossal scale of ancient goddesses looming above a viewer at over 14ft. As contemporary studies of the female form, these women would not have existed in the mid-twentieth century prior to the sexual revolution of the 1960s when artists began to reconsider the body as a politicized terrain and explored issues of gender, identity, and sexuality manifest in photographers such as
Diane Arbus, Robert Mapplethorpe, Larry Clark, Hannah Wilke, Nan Goldin and Cynthia MacAdams
.
In Bayer's new series, we see an ongoing biological and sociological evolution. Posed frontally and exposed, they might be perceived as vulnerable on a smaller scale, however the straight gaze and the enlarged scale creates an intimation of a earapproaching new race of superwomen quietly waiting in the wings. A viewer is surrounded by these unadorned figures, provoking possible intimidation in their directness, uncompromised by faux modesty. Women have changed, transformed and advanced since Artemisia Gentileschi's confrontation with the male gaze.
Bayer does not objectify his models in a way that
Herb Ritts
"saw parts of the body's surface in precisionist terms, often adding mud, skin paint, sand, and other materials to sensually emphasize the follicles and pores of the epidermis," verging on scopophilic fixation with the exaggeratedly buff gym-engineered body.
While the nude as subject is timeless, does Bayer challenge stereotypes of beauty and obsession with youth? While fashion magazines and Hollywood continue to perpetuate and typecast the young and thin, perhaps with these representations of young women confident in their bodies (noticeably without silicon-implanted breasts) provides an antidote to the vulgarity of pornography and the explicit images that bombard us relentlessly. From the plastic surgeried, talentless bimbos of reality television to whom privacy and silence are alien; to billboards for the paradoxically titled "gentleman's clubs" to the back pages of the local newspaper sporting cheap prostitutes; images of over-sexualized vixens have become so prevalent as to become the tawdry norm. This series of nudes by Samuel Bayer addresses all these histories and aesthetics with a savvy and profound insight into image-making and presents his alternative view.
Samuel Bayer
was born in upstate New York in 1965 and grew up in Syracuse, New York. He graduated from New York City's School of Visual Arts in 1987 with a degree in Fine Arts. At the age of 26, Bayer set out to Los Angeles to begin his career as a music video director and he went on to direct over 200 music videos with the likes of
The Rolling Stones, Greenday, John Lee Hooker, Marilyn Manson, Metallica, Smashing Pumpkins, David Bowie, Aerosmith
, and
Lenny Kravitz
. Bayer won an Emmy for the 2011 Super Bowl commercial for Chrysler, Born of Fire featuring
Eminem
; Bayer's commercials are represented in the permanent film/video collection at the Museum of Modern Art in New York City.