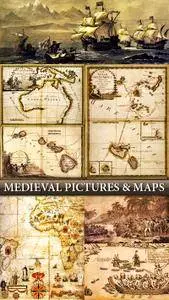 Sea Charts - Old Medieval Maps and Atlases
format JPEG | 67 high quality maps | ~4500x2400 | 232 Mb
This is big collection of old medieval maps and atlases which can be printed on a sheet of large format. Maps scanned very accurately with the preservation of all small elements and maps presented from 13th to the 18th century. Additional images show different episodes from the Middle Ages associated with travel and new cartographic discoveries.