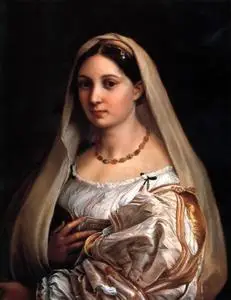 Raphael or Raffaello (April 6, 1483 – April 6, 1520)
La Donna Velata
Images | Jpeg´s 2000*2200 HRes avg | 180 files | Rs 77 MB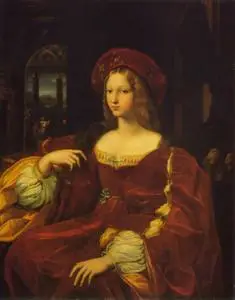 Joanna di Aragon
Raphael or Raffaello
(April 6, 1483 – April 6, 1520), born in Urbino, Italy, was a master painter and architect of the Florentine school in the Italian High Renaissance, celebrated for the perfection and grace of his paintings. He was also called Raffaello Sanzio, Raffaello Santi, Raffaello da Urbino or Rafael Sanzio da Urbino.
In 1504 he went to Florence, where he studied the work of Leonardo da Vinci and Michelangelo. He spent almost four years there (the so-called "Florentine period"), but continued to travel to and work in other places (Perugia, Urbino and perhaps also Rome). He made friends with the local painters, particularly Bartolomeo, who influenced him to discard the thin, graceful style of Perugino for more grandiose and powerful forms.
At the end of 1508, he moved to Rome and was immediately commissioned by Julius II to paint some of the rooms at his palace at the Vatican. This marked a turning point - he was only twenty-five years old, an artist in formation, and had not received commissions of such importance and prestige. He well exploited the situation, and remained almost exclusively in the service of Julius and his successor
In 1514 he was named architect of the new St Peter's. Much of his work there was altered or demolished after his death, but he designed other buildings, and for a short time was both the most important architect and painter in Rome. In 1515 he was entrusted with the preservation and recording of the Vatican collections of ancient sculpture.
DOWNLOAD
Password:
www.AvaxHome.ru
more galleries at
here
or visit my
blog
c u ;-)