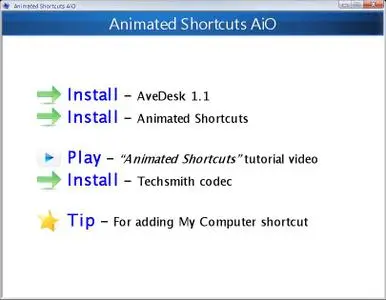 Description:
Ever wanted to have animated shorcuts on your desktop and never knew how to make it happen? You're in luck. I'll show you step-by-step of the very easy process to get those really cool, animated shortcuts on that dull desktop! LOL
Tutorial video and everything you need is included.
Includes:
AveDesk 1.1
92 Animated Shortcuts [self-extracting archive]
Animated Shortcuts [tutorial video] by: vertigo173
TechSmith Screen Capture Codec 2.0.6
"Animated Shortcuts"
by: vertigo173
Resolution: 1024x768
Audio: None
Codec: Techsmith
Running Time: 15 minutes, 13 seconds
*Note: Make sure you install the codec, so that the movie will playback properly.
http://rapidshare.de/files/18910548/Animated__vertigo173_.rar