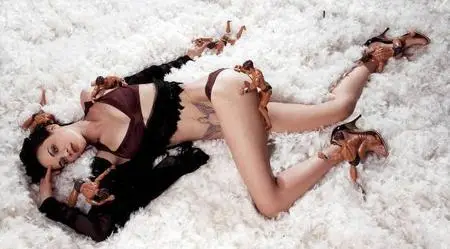 Asia Anna Maria Argento
13 JPG - 1200x1920 - 2,2 Mb
Asia Anna Maria Argento (born 20 September 1975, Rome) is an Italian television and film actress and director. In Rome, the city's register office refused to acknowledge Asia as an appropriate name, and instead officially inscribed her as Aria Argento. Despite this, she uses the name Asia Argento professionally. Asia is pronounced ['a:sia] in Italian.
Her mother is the actress Daria Nicolodi and her father is Dario Argento, an Italian film director, producer and screenwriter well known for his work in the Italian giallo genre, and for his influence on modern horror and slasher movies. Her first child, a girl, was born on 20 June 2001. Italian rock and roll musician Marco Castoldi (lead singer of Bluvertigo), also known as Morgan, is the father.
Asia Argento was directed by her father Dario Argento in one of her first works, Trauma (1993), when she was 16. During this film she also had her first nude scene. She received the David di Donatello (Italy's version of Hollywood's Academy Award) for Best Actress in 1994 for her performance in Perdiamoci di vista!, and again in 1996 for Compagna di viaggio, which also earned her a Grolla d'oro award. In 1998, Argento began appearing in the American movies, such as B. Monkey and New Rose Hotel, with Christopher Walken.
Argento has also proven her ability to work in multiple languages, adding French to the list of languages in which she has performed, with a role in 1994's La Reine Margot. That same year, she made her first foray into directing, calling the shots behind the short films Prospettive and A ritroso. In 1996, she directed a documentary on her father, and in 1998 a second one on Abel Ferrara, which won her the Rome Film Festival Award. She directed and wrote her first movie called Scarlet Diva (2000) and four years later she directed her second movie, The Heart Is Deceitful Above All Things (2004), this time in the United States.
In addition to her accomplishments in the world of film, Argento has written a number of stories for magazines such as Dynamo and L'Espresso, while her first novel, titled I Love You Kirk, was published in Italy in 1999. She has modeled for and endorses the brand Miss Sixty. The band Hondo Maclean from South Wales, gained Argento's interest when they wrote a track named after her. She liked the track so much she sent them pictures which they used as the cover of their 2004 EP Chasing Angels.
From the 17th to the 25th of October 2006, Argento contributed a video diary to Nick Knight's website, SHOWstudio. The title of the 54 entries/episodes was "Don't Bother To Knock" and detailed Argento's daily life with three entries (noon, 6 p.m. and midnight) posted every day. The content of the entries were partially controlled by a discussion forum and together formed a cohesive whole, a sort of "mini-movie" anyone could view for free. In the clips Argento discusses topics such as freaks, her father, Fellini and her sexuality as well as journaling a pregnancy, a new love interest and her unraveling psyche. All of these issues come to a head before Argento's final revelations and good-byes. The last visual of the diary is a digitally manipulated portrait of Argento taken by Knight, slowly burning away.
You can see more quality graphics on my Blog