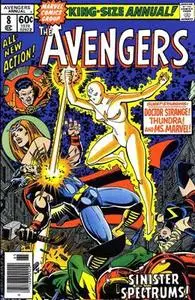 Avengers Annual #8 | Published 1978
RAR | PDF | 21.13 Mb | RS
"Spectrums of Deceit!"
By Roger Slifer, George Perez, Pablo Marcos and Ric Villamonte.
The Wasp is possessed by the sentient power prism of Doctor Spectrum, which tries to take on Thor as its new host body but is destroyed through the efforts of Thor and the other Avengers.
Avengers Assembled: Thor, Iron Man, Yellowjacket, Wasp, Captain America, Hawkeye, Quicksilver, Scarlet Witch, Vision (II), Black Panther, Beast, Ms. Marvel (provisional), Wonder Man (provisional).
Other Characters: Doctor Spectrum II, Doctor Strange, Wong, Clea, Hyperion II, Thundra, Whizzer III, Billy Roberts, Edwin Jarvis.
Rapidshare:
http://rapidshare.de/files/36020074/Avengers_Annual_8.rar