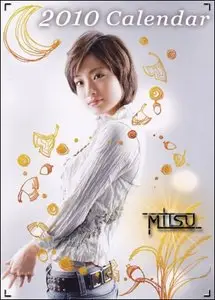 Aya Ueto - Calendar 2010
14 JPG | 1413 x 1024(HQ) | 6.08 MB
Aya Ueto (born September 14, 1985) is a Japanese actress, singer, idol, and tarento.
Born in Nerima, Tokyo, Ueto was discovered when she participated in the 7th All-Japan National Young Beauty Contest, where she won the Judges' Special Choice Prize. She made her acting debut at the age of thirteen in the film Satsujinsha Killer of Paraiso and in 1999, she and fellow participants of the Young Beauty Contest Mami Nejiki, Mai Fujiya, and Manami Nishiwaki formed the unsuccessful girl group Z-1. In 2002, after their disbandment, Ueto continued her music career as a solo singer under the label Pony Canyon, where she debuted with the single "Pureness". Ueto's breakthrough came when she was cast as a girl suffering from gender identity disorder in the sixth series of the TBS drama 3 nen B gumi Kinpachi-sensei. Her critically-acclaimed performance led to several leading roles in dramas and TV endorsements, eventually establishing her as one of Japan's most recognizable faces.She has also ventured onto the big screen in famed film director Ryuhei Kitamura's 2003 blockbuster Azumi and its sequel, Azumi 2: Death or Love in 2005. As one of Japan's most ubiquitous celebrities, Ueto constantly appears on billboards, shop windows and train adverts.
found other Calendars on my Blog
No Mirror(s) Please !!!