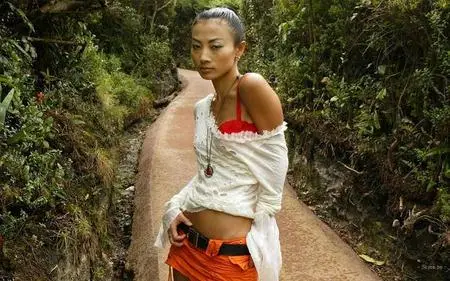 Bai Ling
25 JPG - 1200x1920 - 10,3 Mb
Bai Ling (Traditional Chinese: 白靈; Simplified Chinese: 白灵; pinyin: Bái Líng) (born October 10, 1970) is a Chinese American actress. Bai is her surname, which literally means "white". Ling, a common given name for Chinese, means alert, intellegent, or spirit.
Bai Ling was born in Chengdu, China. Her father was a music teacher, and her mother was a dancer and stage actress. Her parents were persecuted during the Cultural Revolution because of their jobs, and soon after her birth, Bai moved to her grandmother's residence elsewhere in Sichuan. She has described herself as a very shy child who found that she best expressed herself through acting and performing. She has since said that acting allows one to ignore how society tells one to behave and allows other parts within oneself to be expressed. She began a three-year stint as a "soldier" in the People's Liberation Army in Tibet at the age of 14. Her main activity there was to entertain with musical theater.
As she matured, she appeared in several movies. However, her rebelliousness caused friction with the army. She was accused of insubordination for using tobacco and alcohol, was briefly hospitalized for depression by the end of her army service, and partook in the Tiananmen Square protests in 1989[citation needed]. She temporarily moved to New York in 1991 to attend New York University's film department as a visiting scholar, but later obtained a special visa that allowed her to remain in the United States until she became a citizen in 1999.
You can see more quality graphics on my Blog