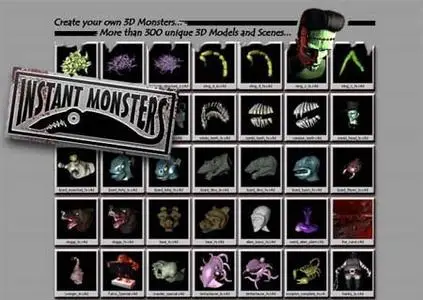 Instant Monsters (c4d, 3ds, lwo and obj files) | 596 MB
If you're a CINEMA 4D user and you like horror, then get your teeth stuck into this. Instant Monsters is a 3D construction kit that helps you to build monsters, aliens and fantasy characters quicker than you can say: "It's alive!"
With Instant Monsters, creating the beast of your dreams (or nightmares) is easy. Using the CINEMA 4D browser, cast your eye over 300 unique, carefully crafted body parts and accessories. Pick the parts you want to use and simply move them into position to lock them together.
You can save even more time by using pre-built characters. Among these you'll find "Franky", a hangman and a scorpion. But the chances are that you'll have most fun with the bat. It's already animated for you, so just drop it into a CINEMA 4D particle system for an instant flock of these much-feared creatures of the night…