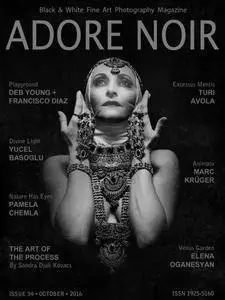 Adore Noir - October 2016
English | 96 pages | True PDF | 54.3 MB
ISSUE 34 • October • 2016
​
Deb Young & Francisco Diaz collaborated on Playground; they "work on each image in real time, together, from 8,000 miles away." They are on separate continents, and yet the synergy of their images is as if they were working side-by-side. Fog lingers here and there, birds flock in the background and the stars of this show are the children, clearly, and utterly focused on movement. The story of childhood is one we are all familiar with; with this series you have the opportunity to look at it with fresh eyes. Perhaps one of the photos will spark a memory from your very own childhood, like the little girl patiently waiting for her turn on the swing. Arms crossed, focused, lips pursed; I might have been that girl.
Turi Avola's Exessus Mentis is a series inspired by a "photographic book depicting the remains of various saints and martyrs…skulls and skeletons were completely adorned by jewels and rich clothes…all of this inspired me to create a series of portraits with those characteristics—twelve people with twelve different personalities." Avola's words aptly express his vision, the resulting photographs deliver, the women are adorned both in jewels and rich clothes, and yet it is the expressions in their eyes that will bring you back to the photos again and again.
Yucel Basoglu's series Divine Light is deft at finding the calm that so many of us, especially in today's harried world, have trouble finding. A single figure stands on the edge of a rock, alone, despite the streaking clouds, the light illuminates the scene; Divine Light.