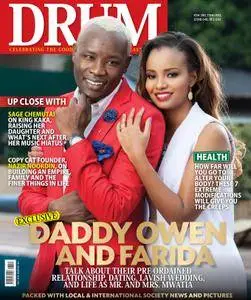 Drum East Africa - July 2016
English | 68 pages | True PDF | 12.6 MB
Do you believe in predestined love? Daddy Owen does, and Farida Wambui is the one for him. The award winning musician and his stunning wife who grace DRUM's cover this month give us juicy details, including how they met, their courtship and grand wedding and life as a married couple.
We've all heard about Copy Cat. But, how much do you know about its Founder and CEO, Nazir Noordin. In a candid interview, he opens up about family, his appreciation for the finer things in life and his company's longevity. In this issue, musician Sage Chemutai talks about King Kaka, raising her daughter and what she has in store for her fans.
Check out our amazing fashion spread this month that's based on the Woodabe women and read all about The Human Canvas to find out what extremes some people go to to alter their bodies.
How well do you know how to set a table? In etiquette, our guru, Justina Wanjiru, will have you setting one effortlessly through her simple instructions.
Grab your copy for more interesting reads in your favourite sections such as Travel, Men's Style, Décor and Fine Dining.