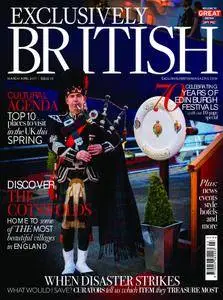 Exclusively British - March/April 2017
English | 100 pages | True PDF | 47.1 MB
The last days of winter are passing and time is better spent looking forwards. We showcase and highlight just a few of the wonders awaiting discovery in the coming months, all around this beautiful country.
In this issue, we turn our attention to the iconic Knightsbridge store, Harvey Nichols, look at the transformation of Wentworth, in Surrey, into one of the world's leading golf and country clubs, and dine at Duck and Waffle, on top of Heron Tower.
If you are planning a wedding or looking for an exclusive venue you will be spoilt for choice in our selection of outstanding properties for your stay, or special day and our feature on modern British jewellers may inspire your partner and bring lasting memories.
Wishing to inspire you to look outside London and the most obvious tourist attractions, we review the other-worldly delights of glorious Guernsey, the second-largest of the Channel Islands and the bucolic peace of the Cotswolds. Scotland's capital, Edinburgh, celebrates the 70th anniversary of its famous arts festival and now hosts a variety of great events, throughout the year. One of Britain's most magnetic attractions, The Royal Yacht Britannia, is permanently berthed, close to the city, at Leith and our review gives a tantalising taste of what a visitor will find there . And on a more cultural note, we asked the curators of our best museums to choose their favourite exhibits and bring you our regular features on outstanding shows, exhibitions and theatre. Showcasing the very best of Britain again this spring .