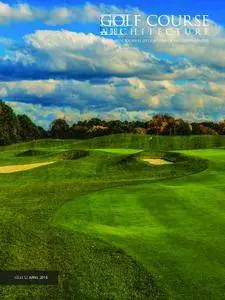 Golf Course Architecture – April 2018
English | 68 pages | True PDF | 25.9 MB
The April 2018 issue of Golf Course Architecture features Links at Perry Cabin on its cover, which will be Pete Dye's last course. Anthony Pioppi paid a visit.
The Tee Box section opens with a report on the two courses currently taking shape at Big Cedar Lodge. Payne's Valley has been designed by Tiger Woods' firm, while GCA hears from Bill Coore about the Ozarks National course he and Ben Crenshaw have designed at the resort.
GCA speaks to Ernie Els Design's Thomas Rubi and Greg Letsche about the creation of a new golf course in Zanzibar, while Sean Dudley finds out more about the recent discovery of a map showing Seth Raynor's original plans for the course at Midland Hills Country Club in St Paul, Minnesota.
This issue includes opinion articles from Kurt Huseman of Landscapes Unlimited, who says that traditional contracting will continue to have a major role in the golf course architecture industry, and Martin Ebert and Tom Mackenzie explain why some links courses are moving away from the traditional revetted bunker approach.
Southwest Greens Construction's Kevin Holinaty explains why the creation of a course at Gareth Bale's Welsh home is great for golf, while Adam Lawrence takes a look at what the appeal of geometric features on golf courses is.
GCA also visits Dana Fry's new South course at Michigan's Arcadia Bluffs resort, and David McLay Kidd's Mammoth Dunes course at the Sand Valley resort in Wisconsin.