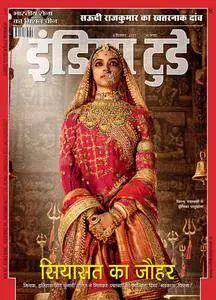 India Today Hindi Edition - दिसम्बर 05, 2017
Hindi | 68 pages | True PDF | 25.8 MB
Highlights of India Today Hindi 06th December 2017, issue:
Cover Story: Padmavati: Siyasat Ka Jauhar
The blurring lines between myth and history and electoral arithmetic come in the way of Sanjay Leela Bhansali's Padmavati.
World: Saudi Arabia: Pashchim Asia Mein Takht-o-Taj Ki Shataranji Chaalein
Saudi Arabia's unprecedented purge of the high and mighty among the ruling elite along with Iran's expanding sphere of influence are sparking further tensions in the region
Special Report: China: Muqable Ki Taiyari Par Badha Zore
The armed forces ratchet up their military plans to tackle an assertive China amid significant geopolitical changes.
Upfront: Rahul Gandhi: Congress Ke Taranhar
Ever since Rahul Gandhi, 47, fought his first election in 2004, his ascent to Congress presidency was pre­ordai­ned. The Congress Working Committee has decided it's time to bite the bullet—in a few weeks. So Rahul remains on the verge, a faintly damning phrase that sums up his political career. By mid-December, he'll take over a party that's only just recovered from what seemed to be terminal decline. Rahul's also in the midst of a personal renaissance. Campaigning in Gujarat, he has been assured, caustic, taken the fight to the BJP. Can he revive the Congress?
State: Madhya Pradesh: Godse Ki Moorti
The Hindu Mahasabha builds a temple for Godse, has the BJP government squirming though Madhya Pradesh police seized the statue of Mahatma's killer.
Fashion: Sari: Pallu Ka Badla Mizaj
A sign of both modernity and tradition, in the hands of designers today, the sari is becoming an aspirational symbol too.