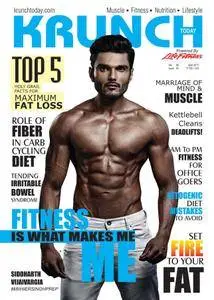 Krunch Today - April 2017
English | 84 pages | True PDF | 16.5 MB
It's April, and in India spring comes early. Time
to get that spring back in your step!
This month's cover personality, Siddharth
Vijaivargia, in his pursuit to build that dream
body moved from Jaipur to Mumbai. In this
quest of his, he has been encouraged by, of all
the people in his life, both his parents.
Why this should be surprising to anybody is
because most bodybuilders we come across in
our country have on the contrary been faced
with tremendous opposition from families to
even enter this field. So remarkable therefore
is the case of Siddharth; his folks not only
consented but even encouraged him to chase
his muscle dreams. Definitely a not-to-miss story
in this issue.
Also, do catch some interesting gems on
working out and diet that Harry Ranson has
provided in his interview in this edition.
Another Harry, this time Harry Sandhu, takes up
the question of fat loss and the facts associated
with maximising it.
Kunal Sharma this month focuses on tending
to IBS or the irritable bowel syndrome. His
suggestions on alleviating the distress of IBS
sufferers are worthy indeed.
Swapnil Hazare this month in an article 'AM
to PM' churns out several fitness tips for officegoers.
Totally what the starved-for-time person
needs to boost his fitness quotient, without
stealing from his work hours of course.
The Ketogenic diet has been in the news
aplenty, and Rachit Dua does well to tell us
what mistakes to avoid while following the Keto
path to a ripped torso. A must read for all Keto
devotees.
Amongst the regulars we have Shwetha Bhatia
on 'Sleep Hygiene', and Aminder Singh on
growing your biceps majorly.
Nikhil Ashtevale discusses the 'Role of
Fibre in a Carb Cycling Diet', while Pallavi
Bhattacharya once more dwells on the History
of Body Building. (Part 7 to be precise).
The cherry on this month's cake of course is 'A
brief history of how modern humans started to
walk, again'.
Have a nice read.