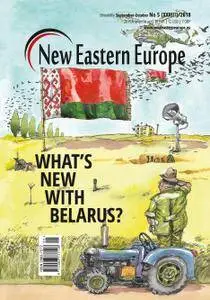 New Eastern Europe – August 2018
English | 196 pages | True PDF | 17.6 MB
It often seems, at least from the outside, that Belarus remains isolated from the West and very static in its transformation. Yet, despite its relative isolation, Belarus is indeed changing – as our authors argue in this issue. Even if these changes are slow, as Andrew Wilson notes in the opening essay, they should be seen as an opportunity for European policymakers who nevertheless need to remain "realistic as where exactly the changes are occurring and why". Carnegie expert Balázs Jarábik agrees that current changes are important, but far from a breakthrough. However, he notes that no other country in the Eastern Partnership is as stable as Belarus – even if it is one of the least democratic, as noted by both Maxim Rust and Alyaksandr Klaskouski in their analyses of the country's unique political system.
Yet, to really get a grasp of how this post-Soviet country is evolving, one must look beyond politics. Hence, our authors take us on a journey to other, less-explored areas of the country. Victor Martinovich describes the many layers of Belarusian culture, Tania Setsko illustrates the role of exclusion in the society, while Natalia Smolentceva and Varvara Morozova describe grassroots urban movements in and around the capital city of Minsk. When put together, we get a picture of a country that is rather dynamic and faces similar issues to many other countries in the region and the West. On the surface, Belarus may be an even more reluctant participant of Europe, but it is also much more than the simple catchphrase "Europe's last dictatorship".