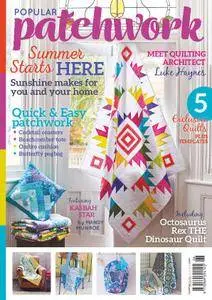 Popular Patchwork – June 2018
English | 100 pages | True PDF | 23.5 MB
Bursting with light and loveliness, this month's projects are a beautiful mix of styles and techniques, all designed to bring some much-needed sunshine into your life. Kicking off this issues makes with a distinctly Moroccan vibe, is the Kasbah Star quilt by Mandy Monroe. Creating stars from half square triangles, the result is deceptively simple! Debbie Von Grabler-Crozier's Day Out quilt is another reminder of why quilts (like life) don't need to be complicated as she mixes her squares with triangles and patterns with plains, to stunning effect. Lynne Goldsworthy has worked her magic and created the gorgeous Beachcomber quilt, while Judith Hollies has turned her talenteds to Rex- the ultimate dinosaur quilt! For smaller projects and quick make's, we have the perfect Beachcomber tote, a rather cute Butterfly peg bag and the fabulous Ombre cushion.
Away from the projects, Julie Sheridan catches up with collector-come-designer Christopher Wilson Tate and finds out about his vast collection of antique quilts and his exciting new collaboration with Moda. Dispelling any outmoded beliefs that quilting is women's work, American designer Luke Haynes is the focus of this month's feature From Building Blocks. With all this and much more, don't miss this June issue.