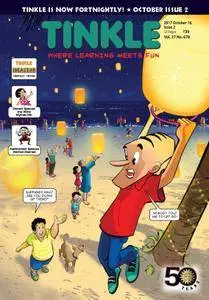 TINKLE - November 02, 2017
English | 45 pages | True PDF | 17.9 MB
What's Special?
Welcome the season of Diwali and Halloween with a colourful, festive and boo-tastic issue of Tinkle!
• Something's wrong with Bina this Diwali! She's snappy and rude to her girls. Find out what's going on with her in Ina Mina Mynah Mo: Eye for an Eye.
• Lord Maurice Berkeley is tasked with slaying a dragon. But he has no idea of how to do it in the Halloween Special Dragon Dilemma.
• What do you do with an abundance of cow dung? Why, you figure out the most creative way to sell it all! Check out how Meera and Achin do it in the Chhath Puja story Cake Anyone?
• The Drains are on the hunt for a Blood Baboon, whose fangs are well-suited for Billy. That leaves Myra and her uncle free to hatch a deadly plan this Halloween, in Dental Diaries: The Congo Bongo.
• Create fascinating Diwali lanterns with the Do It Yourself activity Yarn Lantern.
• Madame Chamatkar claims she can see ghosts and channel their powers! But Soumya doesn't quite believe her in the Halloween story The Haunting.
• And YOU get to decide the Tinkle Toons' next adventure! Vote for a new Dental Diaries monster in the Tinkle IdeaStar Contest Voting.
Also Starring:
Even the simple task of painting walls confuses Suppandi in Painting Problems. MeanwhileAnd catch the thrilling end of Spoorti and Sangram's adventures as they face-off rogue aliens in the conclusion to The Berry Bandits.