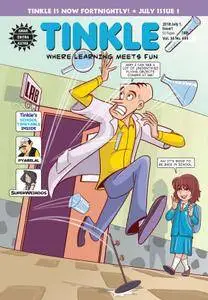 Tinkle - July 06, 2018
English | 46 pages | True PDF | 23.5 MB
What's Special?
This July get ready for another magical Tinkle journey!
• It's time to head back to school but Anchal's yet to Shop Around for her school things. With the mall closing in an hour, will Anchal and her mom succeed in mission shopping?
• Lexi's ring is stuck on her finger, making going back to school a nightmare. Will the jewellery land her in trouble or will Lexi manage to take off The Ring of Ruin in time?
• Eccentric celebrity Wahaha is hosting a fundraiser for International Plastic Bag Free Day. But Aisha is sure that behind the charm is a villain lurking. Could she be right? Find out in SuperWeirdos: Ha Ha Ha!
• Don't go back to school empty-handed. Take along some hilarious jokes and riddles with our special Fun-A-Thon.
• Celebrate World Chocolate Day by reading all about chocolate in Know-It-All: Cocoa Nuts. And don't forget to sip on the delicious Fun Recipes: Cocoa Cream Slush as you read it!
• And float back to school with Tinkle's Cloud Timetable!
Also Starring:
Cheer on with Aadi and Nadia for the NOIS hockey team as they face-off against their rival school NV in Fixing Frenzy. And join Kushal and Keya as they roam the streets of Italy but little do they know that awaiting them is a Trial in Tuscany. Finally, help Pyare grow tomatoes and lose weight in Pyarelal: Family Reunion!