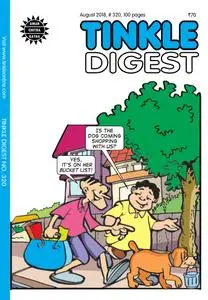 Tinkle Digest - September 2018
English | 93 pages | True PDF | 23.4 MB
What's Special?
• What happens when a king who's fussy about his hair meets the king of barbers? Find out in Two Kings, a Bulgarian folk tale.
• 13-year-old Akash wants his mom to stop babying him. But his mom has found the perfect way to bond with her teenage son. Know more in Age No Bar.
• Find out the secret of The Magic Glasses that do it all, from reducing the glare of the sun to turning dry hay into fresh grass.
• Chamataka and Doob Doob are about to find out that Big Baan's rhino has recovered from his leg injury. Follow Kalia the Crow to know how they do.
• A miserly landlord refuses to reward a poor poet for entertaining him. What will the poet do when has had enough? Find out in Krishna's Cow.
Also starring:
Simply soaking new clothes turns into a disaster for Prem and Veena. Find out how the couple deals with it in The Colourful Dhoti.
Young Poka is tricked into selling his cow for much less than its worth. Follow him to the market and watch how he exacts revenge with The Magic Cap.
A quarrelsome couple make up in The Last Quarrel. Let the visiting uncle show you how and why.
Tantri the Mantri has found the perfect weapon to get rid of King Hooja… again. Read on to find out what hits him in the end.