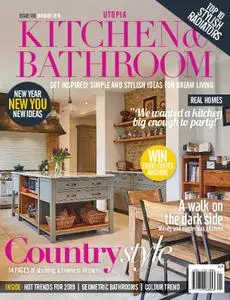 Utopia Kitchen & Bathroom – January 2019
English | 116 pages | True PDF | 26.2 MB
There are few bigger road tests for the heart of the home than the festive season. From the rigours of cooking a feast for the masses, to the entertainment essentials to make a host look super-slick, to the storage solutions and wonder appliances that get rid of all the evidence once the partying is over.
After the last crumbs are vacuumed and the cushions plumped up, as a new year rolls in, thoughts inevitably turn to resolutions and plans for the coming months. For some that might mean opting for a new or updated kitchen or bathroom – or indeed both. So this issue, we take a look at some of the exciting trends that will be shaping homes in and beyond, What's Hot? (p42).
For one, kitchens are getting deeper with raven blacks, midnight blues and murky greys as you'll see in A Walk on the Dark Side (p62). From crazy chevrons to honeycomb hexagons, get your bathroom into shape with our fantastic array of on-trend patterns in Go Geo (p102).
And if a country-style kitchen is all you've ever wanted, then we've rounded up some of the best in Country Life (p82). Plus real homes, the latest must-haves for the kitchen and bathroom, and much more.
Happy new year!