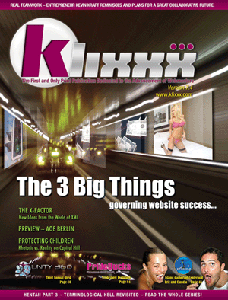 Klixxx Magazine - April 2006
The April issue of Klixxx Magazine focuses on getting the skills, keeping up with the trends and giving our readers and knowledge and the support to achieve their goals! The Internet continues to evolve - and throughout this process, what's cool gives way to what's hot and what's necessary, in order to continue developing web-based properties that will keep your customers happy, satisfied and coming back for more.
Part 3 in our on-going Hentai series focuses this month on "Terminological Hell" - and Paul Nicholls give you the inside 4-1-1, defining the terms and helping you to understand the animated niche from an expert's point of view. And speaking of 3… Kevin Godbee's Crossovers article this month gives you the low-down on "The 3 Big Things" that you need to figure out if you want to make money.
Tutorials and briefings on technologies such as XML, the hottest webmaster gadgets and what's new in tech-based marketing - and insight into hot topics such as the Extreme Associates case, what's new with ASACP on Capitol Hill and a preview of this year's AOE Berlin! Klixxx Gay reviews Qfest and talks about changes within the adult industry tradeshows. Last Licks brings us "Memories of New Orleans," as many share similar memories after attending past shows in the recently devastated city.
Each month Klixxx Magazine focuses its attention on the issues, trends and topics that matter to webmasters the most. Our focus is YOU. Written BY real webmasters FOR real webmasters. That's more than just our motto - it's our pledge to our readers. If you are not receiving Klixxx Magazine, visit
www.klixxx.com/subscribe.html
or contact kath@klixxx.com to find out how you can get a free issue!
Download Klixxx Magazine April 2006