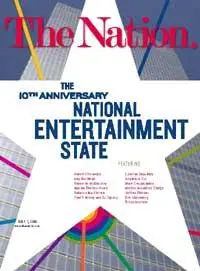 The Nation Magazine
July 03, 2006 | PDF | 2.45 Mb | 48 pages
Not sure if this magazine will find its audience here, but let's give it a try with three most recent issues of one of America's best and oldest magazines. Not owned by any corporation, with no pretty pictures, but lots of interesting stories, ideas and opinions from political left and Democratic movement.
Now I do have the full set of 2006 issues of The Nation – all 26 of them in full 'real, not scanned PDF' glory. Speak your mind in comments if you want them posted here.
The Nation will not be the organ of any party, sect, or body. It will, on the contrary, make an earnest effort to bring to the discussion of political and social questions a really critical spirit, and to wage war upon the vices of violence, exaggeration, and misrepresentation by which so much of the political writing of the day is marred.

– from The Nation's founding prospectus, 1865

Download:

http://rapidshare.de/files/24533761/nation.2006.07.03.rar