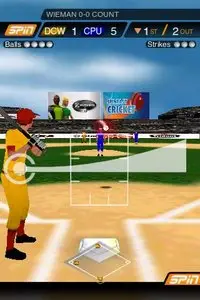 Baseball 09 v1.0.0 | Game | iPhone | 10MB
Step up to the plate and knock a few out the park with Spinfast Baseball '09. Face down a pitcher throwing a deadly arsenal of heat, diabolical knuckleballs, plunging curves, sliders, change-ups, screwballs and everything in between.
Draw the swing you want to play, completely controlling your shot placement with a flick of the finger. Just like out on the diamond, swing a little early to hook left, a little late to steer right, hit down on the ball to ground, or under it to fly, ease off the power with a shorter gesture to drop it just beyond the infield or pour it on to try put it into the stands.
Features
* Draw your swing
* Authentic batting physics. Hit down on the ball to ground, under to fly and early or late to control left and right.
* Select your pitch from the options suggested by the catcher.
* Each player on the field has unique characteristics
* Fielders react realistically and make errors, over-throw and support one another
* Play 1 to 9 inning games (plus extra innings on a tie)
* Select your own team color combinations
* Tackle the online Hall of Fame and top categories including high score, home runs and batting average
* Scorecard with batter/pitcher stats including hits, RBI, base hits, home runs, batting average, ERA and SO
* 3D graphics, with big game TV-style look and feel
* Three levels of difficulty, with dynamic scaling
Download
http://rapidshare.com/files/325150207/Baseball_09_1.0.0-kidmoneys.rar