US NEWS & WORLD REPORT
2006 December 11th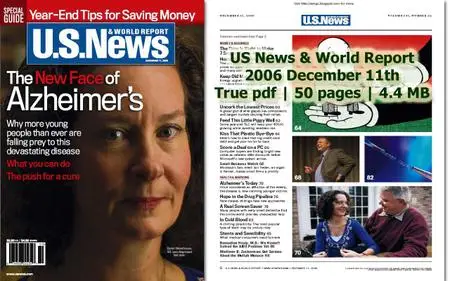 True PDF | 50 Pages | 4.4 MB | Without fullpage Ads. Easier to download.
The link to download from
Rapidshare.com
The password is
notemart@gmail.com
U.S.News & World Report is a weekly American newsmagazine. Its editorial staff is based in Washington, D.C., but it is owned by U.S.News & World Report, L.P., which is based in the Daily News building in New York City. Founded in 1933 as United States News, it merged with World Report in 1948. The magazine's founder, David Lawrence (1888–1973), sold it to his employees. In 1984, it was purchased by Mortimer Zuckerman, who is also the owner of the New York Daily News.
Its two primary competitors—both of which have greater circulation—are Time and Newsweek. It is generally considered to have a more right-of-center editorial point of view than the two others. It has also marketed itself as being a serious-minded journal more consistently focused on important matters than its competitors, at times directly criticizing their occasional cover stories on celebrity or entertainment news.
Officially, there is no space between the "U.S." and "News & World Report"; the publication's title, properly spaced, is "U.S.News & World Report". However, there is a space in the shortened title "U.S. News".
IN THIS ISSUE: YEAR-END TIPS FOR SAVING MONEY
Home Remodeling Is a Steal
The upside of the real-estate slump is that prices for building materials have plungedand many contractors need work
Keep Old Man Winter at Bay
Energy upgrades pay off in tax credits atthe same time they warm your home
Cut Your Healthcare Costs
With wise management and a little recordkeeping, a flexible spending account canmean substantial savings.
Uncork the Lowest Prices
A global glut of wine grapes has connoisseursand bargain hunters stocking their cellars
Feed This Little Piggy Well
Some year-end TLC will keep your 401(k)growing while avoiding needless risk
Kiss That Plastic Bye-Bye
Here's how to shed that big credit carddebt and get your ho-ho-ho back
Score a Deal on a PC
Computer buyers are finding bright newvistas as retailers offer discounts before Microsoft's new system arrives
Email me
notemart@gmail.com
if any links died or any further requests.
Visit
my blog at Blogspot
for more..
Plz dont make any mirrors until 48 hours later. Thank in advance.
BLACKLIST
* Unipredator

* enotus

* warezking (stubborn)

* Alexpal (brandnew!)