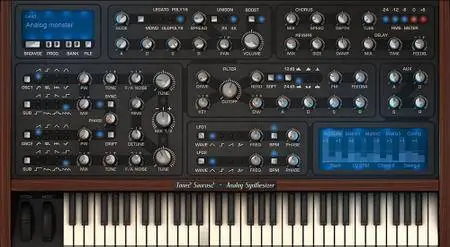 Tone2 Saurus 2.0 MacOSX | 12 MB
Saurus2 can do an extremely authentic emulation of analog synthesizers. It covers all important aspects of the most famous and expensive analog synths, but without adopting the disadvantages.
Saurus2 is very easy to use and comes with a comfortable interface. It offers a larger sonic range, a more precise analog emulation and a more flexibe synthesis engine than competing products. Saurus2 offers high-end sound quality, but without placing heavy demands on your CPU or budget. Finally true analog sound does not longer require compromises!
Key Features:
Authentic emulation of analog synths: True Analog Modeling Technology ™
Covers all important aspects of analog synthesizers, but without adopting the disadvantages
High-end sound quality
Replaces a large number of expensive analog synthesizers
Low CPU and high reliability
Great value for money
Free personal support and updates
Comfortable and easy-to-use interface
Larger sonic range than competing products
Flexibility, expandability
Ships with 830 outstanding presets from 22 top sound designers
Can create unique sounds which no other synthesizer can do
Analog filter with self-oscillation, FM and feedback
Very fast LFOs and punchy envelopes
Powerful arpeggiator
Many different play modes: Mono, legato, glide, poly, stack, autochord
4x stereo unison
High-end quality effects section
Analog modeled distortion and tube amp
Developed by experts with 25 years of experience
Home Page -
http://www.tone2.com/html/saurus