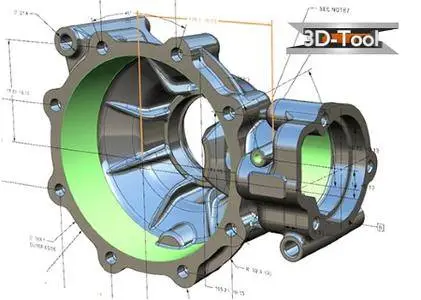 3D-Tool version 13.11 Premium | 339.5 mb
3D-Tool GmbH & Co. KG is pleased to announce the availability of 3D-Tool 13.11 Premium. The CAD-Viewer and Converter from 3D-Tool has useful tools to analyze 3D models without CAD knowledge. At the push of a button, 3D-Tool provides the dimensions, the surface area and the volume for all parts of a model. Distances, angles and radii can be measured with simple mouse clicks.
Current Version 13.11 – Published: May 2018:
- Support of the old Windows 10 builds 1507 and 1511
- Bug fixes
- Premium interface update:
. Improved support of native CAD assembly files that have references to sub folders
. Fixed display problems with transparent parts
- 3D-NativeCAD Converter:
. Improved support of native CAD assembly files that have references to sub folders
About 3D-Tool.
3D-Tool is designed to view and analyze 3D models withou expensive CAD software or CAD knowledge. During the last decade the product has evolved from a pure 3D viewer to a professional CAD analysis and collaboration tool, off ering numerous features to review and analyze 3D geometry. Measuring tools, dynamic cross sections and exploded views provide a detailed view of the design. The high quality display and the intuitive interface make it easy for users to see interfering parts and other construction errors. Information about volumes, surfaces, draft angles, projected areas and wall thicknesses complete the features.
3D-Tool is also used to publish CAD data in 3D-Tool or 3D PDF format without additional licensing cost. Complete projects can be published to directly executable fi les containing all 3D/2D CAD data, all user-defi ned dimensions and markups and the full functional 3D-Tool Viewer. With this feature, every member of the project team, from engineering to marketing, as well as customers and suppliers, can evaluate designs in 3D; accelerating and improving the decision and approval process while avoiding expensive mistakes.
About 3D-Tool GmbH & Co. KG.
3D-Tool provides a professional, easy-to-use and cost-eff ective CAD viewer and converter with a wide range of functionality to communicate 3D designs across the project team and with stakeholders, customers and others in need of a sophisticated design review. The product includes native CAD translation options to exchange CAD data between diff erent CAD programs. Located in Heddesheim, Germany, since 2000 3D-Tool has helped customers accelerate and simplify the review of CAD data. The 3D-Tool company policy is to provide the highest usability and functionality based on users' needs at an aff ordable price
Product:
3D-Tool
Version:
13.11 Premium
Supported Architectures:
x64
Website Home Page :
www.3d-tool.com
Language:
english, german, french, korean
System Requirements:
PC
Supported Operating Systems:
Windows 7even or newer
Size:
339.5 mb
Please visit my blog
Added by 3% of the overall size of the archive of information for the restoration

No mirrors please