Graphic Tools [5-in-1]
System Requirements: N/A
OS: Windows XP
Size: 666mb, split into 8 parts
Password:
www.projectw.org
http://rapidshare.de/files/36373078/Grapic_Tools__5-in-1_.part1.rar
http://rapidshare.de/files/36388245/Grapic_Tools__5-in-1_.part2.rar
http://rapidshare.de/files/36392332/Grapic_Tools__5-in-1_.part3.rar
http://rapidshare.de/files/36396288/Grapic_Tools__5-in-1_.part4.rar
http://rapidshare.de/files/36399807/Grapic_Tools__5-in-1_.part5.rar
http://rapidshare.de/files/36403030/Grapic_Tools__5-in-1_.part6.rar
http://rapidshare.de/files/36409683/Grapic_Tools__5-in-1_.part7.rar
http://rapidshare.de/files/36410398/Grapic_Tools__5-in-1_.part8.rar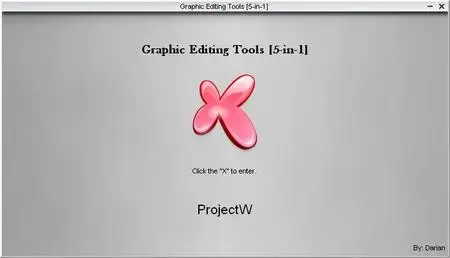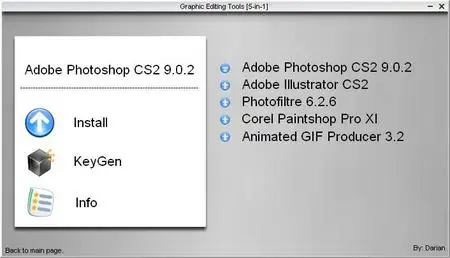 Adobe Photoshop CS2 9.0.2
Adobe Photoshop CS2 software, the professional image-editing standard and leader of the Photoshop digital imaging line, empowers students and faculty members with the same groundbreaking technology used by top creative professionals and photographers. With smoother file handling and an intuitive workspace that is easily adapted to meet specific personal needs, students in art, design, and photography courses have more time to refine technical skills and explore creative possibilities.
To that end, Photoshop CS2 delivers several exciting new features, including the revolutionary Vanishing Point, multiple layer control, Smart Objects, and Image Warp. Students can produce professional-caliber advertisements, magazines, brochures, Web pages, posters, and much more with the same tools used by top designers and photographers every day.
Students and faculty members can use the latest technology to edit and manipulate digital images for advertisements, Web sites, posters, packaging, identity systems, magazines, newspapers, and more. Empowered by exciting new features—including Vanishing Point, Smart Objects, Image Warp, and the Spot Healing Brush—you can achieve professional, extraordinary results on every project. Develop advanced digital imaging skills with the latest version of Photoshop—By integrating Adobe Photoshop CS2 into coursework, faculty members can help students learn and work with the same industry-leading digital imaging tools that creative professionals use every day. Learning advanced digital imaging skills not only prepares students for professional careers, it also inspires them to pursue their creative potential.
Adobe Illustrator CS2
Vector graphics reinvented Adobe CS2 software gives you new creative freedom that lets you realize your ideas quickly and powerfully. Instantly convert bitmaps to vector artwork and paint more intuitively. Save time with intelligent palettes and optimized workspaces. Plus, tight integration with other software allows you to produce extraordinary graphics for print, video, the web, and mobile devices.
Image Live Trace Quickly and accurately convert photos, scans, or other bitmap images to editable and scalable vector paths with the Live Trace feature. Image Live Paint Apply color to any area of your artwork and use overlapping paths to create new shapes with the Live Paint feature, which intuitively colors artwork and automatically detects and corrects gaps. Image 3D effects Turn 2D shapes into fully editable 3D objects by extruding and revolving paths. Add lighting and wrap images around 3D shapes to easily create objects such as packaging mock-ups. Image Advanced typography Easily create and control type with over 100 OpenType fonts, paragraph and character styles, paragraph composition, underline and strikethrough, transparent effects, and more. Image Envelopes and live distortion Easily warp, liquify, and distort artwork any way imaginable with envelopes and live distortion tools. more features Enjoy a smoother ride Control palette Discover new features and find existing features faster in the context-sensitive Control palette.
Accessing selection-based tools from a single location eliminates the need for multiple palettes. Image Adobe Bridge Use Adobe Bridge to efficiently browse and preview your creative assets, run automation scripts, access Adobe Stock Photos, and more. Learn more. Image Professionally designed content Jump-start your projects with more than 270 professionally designed templates and over 100 OpenType fonts, all included with Illustrator CS2. Custom workspaces Work more efficiently and optimize your screen area using custom workspaces that display only the palettes you need for a specific task. Save, share, or access any workspace at any time or use workspace templates.
Image Production automation Work at peak efficiency with timesaving tools like dynamic, data-driven graphics, robust scripting, action sets, and automated processing in Adobe Bridge. more features Work well with others Integration with your favorite applications Keep your work flowing with easy integration of your designs into other Adobe applications, as well as into Macromedia Flash (SWF), QuarkXPress, and Mcft Office products. Image Enhanced Adobe PDF file creation Create native Adobe PDF files, including multipage PDF files, so clients and others can easily review your artwork using Adobe Acrobat or free Adobe Reader software. Image Superior web graphics Easily create for the web using vector-based slicing tools, expanded SVG import and export, Pixel Preview mode, expanded Adobe Photoshop export options, simplified SWF file export options, and more. Image Nearly universal graphic file format support Work with almost any type of graphic file including PDF, EPS, SVG, Photoshop (PSD), TIFF, GIF, JPEG, SWF, and more. Superior print capabilities Get fast, consistent results with an intuitive interface that includes advanced control over separations, transparency flattening, Fit To Page, and new support for printing page tile overlaps.
Animated GIF Producer 3.2
Animated GIF Producer is a quick and remarkably easy-to-use tool for making animations, buttons and banners. You can create an engaging GIF animation from the blend of images, captured video snapshots and multipage files. The program also offers you a wide range of customization options and effects to make your production look and behave the way you want. You can add, process and organize images into a sequence with a point-and-click simplicity.
Key features:
* Support for AVI, MPG, MPE, MPEG video formats;
* A built-in snapshot capture facility;
* Support for BMP, JPEG, TIF, GIF, PNG, ICO, PCX, CUR, Adobe PhotoShop PSD and Windows Metafiles image formats;
* Import frames from other GIF;
* Resize frames (stretch);
* Multiple animation output settings;
* Define GIF-files global parameters: screen size, background color, delay;
* Define offset for each separate image;
* Set forward and backward images order;
* Apply transition effects for images;
* Import image from clipboard;
* Duplicate images;
* Reordering images;
* Save images of GIF-file as a set of common graphic formats;
* Export an AVI file;
* Process the images and execute effects (for the current image or all images at once): crop, resample, rotate and flip images horizontally or vertically.
Corel Paintshop Pro XI
Filled with one-of-a-kind photo tools sure to please even the most discerning photographer, Corel® Paint Shop Pro® Photo XI is the ideal choice for people who want extraordinary photos. With a built-in Learning Center to help first time users get started, it's the easiest way to get professional-looking photos - fast!
PhotoFiltre
PhotoFiltre is a complete image retouching program. It allows you to do simple or advanced adjustments
to an image and apply a vast range of filters on it. It is simple and intuitive to use, and has an easy
learning curve. The toolbar, giving you access to the standard filters with just a few clicks, gives
PhotoFiltre a robust look.
Filters
Its wide range of filters allows novice users to familiarize themselves with the world of graphics. You can
find the standard adjustment functions (Brightness, contrast, dyed, saturation, gamma correction) and
also artistic filters (watercolor, pastels, Indian ink, pointillism, puzzle effect).
There are more than 100 filters to be discovered !
Vectorial selections
PhotoFiltre uses two types of vectorial selections. The first type uses automatic shapes (rectangle,
ellipse, triangle, rhombus, rounded rectangle). The second type corresponds to the lasso and polygon.
They both allow a customized form by drawing a shape by hand or using a series of lines. Every
selection can be saved into a seperate file, to be used later on.
Tool bar
The toolbar is primarily made up of drawing tools, such as pipette, displacement cursor, fill bucket,
aerosol, brush, drop of water (blur), cloning stamp, smudge (finger) and magic wand.
PhotoFiltre has some standard brushes (round and square in different sizes), but also some more varied
forms (oblique line, leave, star, etc…).
PhotoMasque module
With PhotoMasque you can create advanced effects of contour and transparency on your images by
using preset masks. These masks are grayscale images, where white is the transparancy color, while
opacity increases as the shades of gray become darker. Black means complete opacity. PhotoMasque
comes with several basic masks to inspire you to create your own masks.
Here are some possible results :
Automatisation module
This module allows you to apply basic functions/corrections (conversion, image size, framing) to a
group of images.
Other functions
Image browser
Plug-in management
Scanning of images using a TWAIN compatible device (scanner, webcam, photocamera)
Transparency management for GIF images and exporting them to icons (16, 256 or 16 millions of colors)
Advanced text effects (rotation, shading, bevel)
Serveral types of contours and textures
Blending and assembling of images