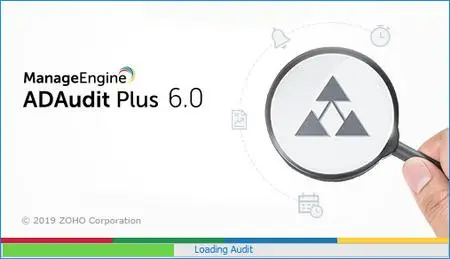 ManageEngine ADAudit Plus 6.0.0 Build 6002 Professional | 186.8 Mb
Real-Time Auditing for Active Directory with 200+ audit reports & e-mail alerts.
Insider Threats
Unearth the telltale signs of an insider attack. For a given account, extract a consolidation of 3 audit trails – user actions in AD, access reports, and permission change reports. The audit trail offers a context which makes spotting the insider easier. Also, you get to instantly learn which computers a user compromised and the changes.
User Logon
Monitor user logon activity in real-time on Domain Controllers with pre-configured audit reports and email alerts. Audit reports ensure the administrator knows the reason behind users' logon failures, login history, terminal services activity, and users' recent logon activities across the Windows server network.
Compliance
SMBs or Large organizations have to comply with industry specific Compliance Acts like SOX, HIPAA, GLBA, PCI-DSS, FISMA…. With our Compliance specific pre-configured reports and real-time alerts, we ensure your Windows network is under 24/7 audit with periodic security reports and email alerts as standard procedure.
Reports & Alerts
Choose from the 200+ schedulable pre-configured audit reports; create custom reports, set profile based reports and report from archived data for forensics. In real-time, track Windows AD object changes (Users, OU, Groups, GPO, Computer, Schema, DNS and System) and get email alerts on unauthorized network access / modification events.
Data Archiving
Run periodic archiving of audited events data to save on disk space. View reports from past events like Active Directory user logon history, password change history and more from the Active Directory archived audit data for computer forensics or compliance. The audited reports can be exported to xls, csv, pdf and excel formats.
GPO Settings
Audit and Report on the GPO changes to the Windows Active Directory and Windows Servers; In-depth advanced tracking of the Group Policy Objects new and old values, configuration, password policy and settings changes and meet regulatory IT network security and various Compliance requirements.
Software Requirements:
Supported Operating Systems:
ManageEngine ADAudit Plus can be installed and run on the following Microsoft Windows operating system versions:
Windows Vista
Windows 7
Windows 8
Windows 8.1
Windows 10
Windows Server 2008
Windows Server 2008 R2
Windows Server 2012
Windows Server 2012 R2
Windows Server 2016
Windows Server 2019
Supported Browsers:
ManageEngine ADAudit Plus requires one of the following browsers to be installed in the system
Internet Explorer 8 and above
Firefox 3.6 and above
Google Chrome
Supported Databases:
ADAudit Plus comes bundled with PostgreSQL as the default database.
MSSQL below versions are also supported [Migration Procedure]
SQL Server 2005
SQL Server 2008
SQL Server 2008 R2
SQL Server 2012
SQL Server 2014
SQL Server 2016
SQL Server 2017
Home Page
-
https://www.manageengine.com/