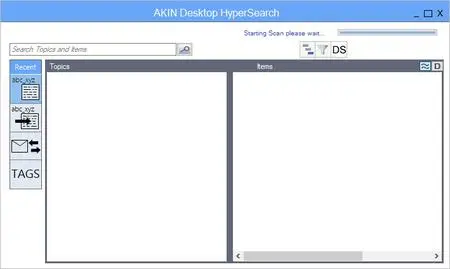 AKIN HyperSearch 2.0.175.0 (x64) | 11 Mb
AKIN HyperSearch is a lightweight application designed to help users search for files stored on their computer.
Search capabilities
It boasts a clean and intuitive layout that allows users to start the search process by simply specifying the name of the file or only some characters.
AKIN HyperSearch displays the search results in the primary panel and lets you perform several actions, as you are allowed to insert keyword tags and sort items by the date when they were created or last modified.
Additionally, you can rename files, copy the information to the clipboard, open the directory where the item is stored, run or open the selected file, as well as preview each document in a dedicated window.
Compatibility:
Windows x64 only (Versions: Vista, Windows 7 , Windows 8 & 8.1, Windows 10)
MS Office 2010, 2013, and 2016
Includes MS Outlook Add-in for searches from directly within Outlook.
Home Page
-
http://grappledata.com/products/consumer/AKINhypersearch/default.aspx